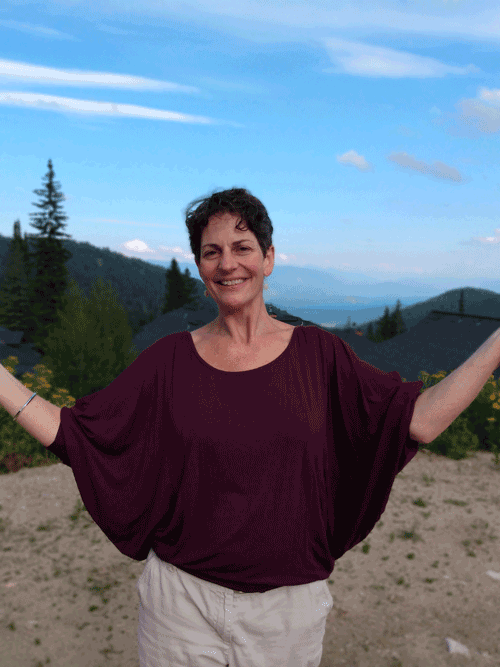 Jenni Barry was born and raised in Northern California. She lived in the South Bay area when it was apricot orchards, before it became 'Silicon Valley'. 
Jenni experienced a massive head injury at the age of 14. She moved to the Victorian village of Ferndale, near the Humboldt Redwoods, where she studied art under a well-known artist, Jeannette Ford. Jenni attended Sierra Nevada College in Incline Village Nevada, on the north shore of Lake Tahoe, where she received her Bachelor's of Fine Arts in 1995. In 1996 she lost her mother, who had been a prolific artist herself before struggling with the many complications of Lupus.  In 1997 she lost her father who had been influential in computer technology when R&D was in its infancy. 
Jenni moved to the redwoods of the Santa Cruz Mountains to grieve and create art. She worked at Big Basin State Park and as a baker for some time.  She home birthed two children and moved to a tiny town close to Ferndale in Humboldt. After a few years she and her children moved to North Idaho (a place she originally wanted to move to right after college).
Shortly after moving into her North Idaho home, she needed to cover some hard insulation in a new room in her house. It was Christmas time and she saw an ornament on the tree done in the Kimekomi technique. She thought, "I can do that to the entire ceiling!" It took about a year and her primary objective was to just cover the space. However, after finishing the ceiling she felt that this new medium chose her; Kimekomi is her true love.
Her work is displayed at :
To learn more about the beautiful area where she now lives, Click Here.
Kimekomi literally means to tuck into a groove.
It is pronounced (Kee-May-Ko-Mee).
A priest of the Kamigamo Shrine, in Kyoto named Takahashi Tadashige made the first Kimekomi dolls from 1736-1741 using upcycled kimono fabrics. These dolls were called Kamo dolls, for the shrine where they originated. Originally the doll body made of willow bark and wheat paste. grooves were cut into it, and the fabric was carefully tucked into the grooves. More recently the technique began to be applied to ball ornaments of cork and wood, and much more recently, Styrofoam.
I took this technique in a totally unique direction. I don't sew and do not glue.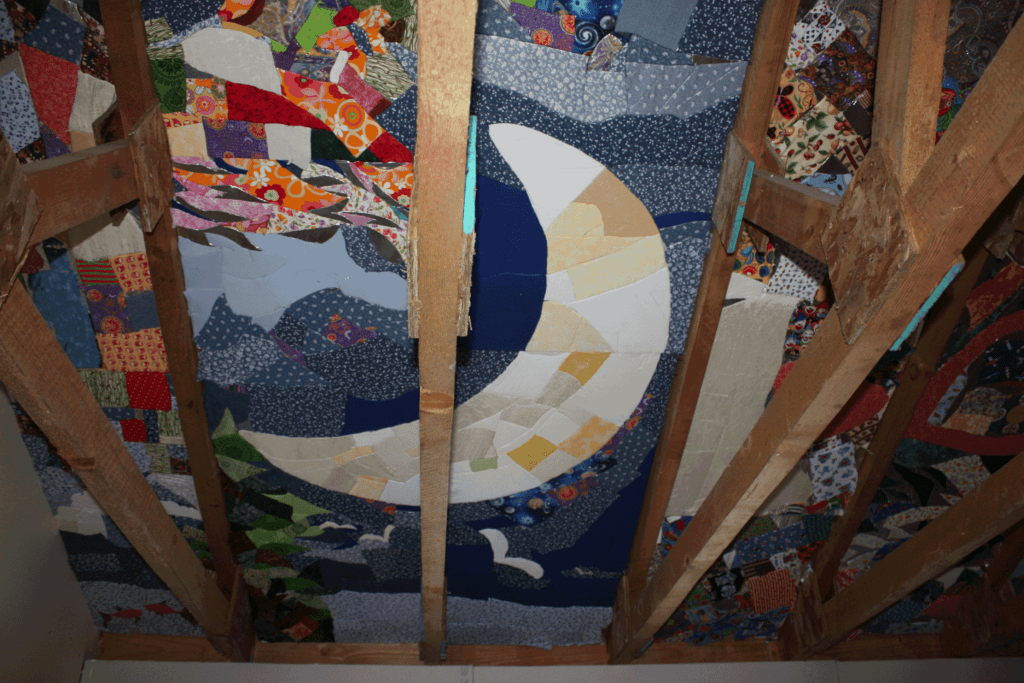 I first got the inspiration to do this art when I had exposed foam core insulation on a ceiling in my home and wondered how I was going to cover it.  It was Christmas time and I noticed a kimekomi ornament on the tree. I was suddenly inspired to use the same technique on the entire ceiling.  It took me almost a year and although my only real objective at the time was to cover the foam, images did emerge.  The ceiling was the only art I had worked on for the year and when I was invited to an art show I adapted my new art skills to produce a piece of art for that show. At that point I was no longer exclusively a painter. My work has evolved to include portraits, landscapes, florals and allegorical pieces.
"Sentimental" is What Makes it Special
"Sentimental" is a naughty word in the fine art world.  I celebrate it!
My work is deeply sentimental; it is warm and touches the soul.  My greatest joy comes from creating art that people can connect with tangibly and nostalgically. This includes incorporating fabric of people's loved ones, or childhood to create art that is very personal and beautifully enhances their home.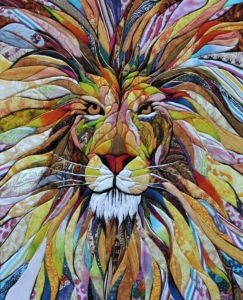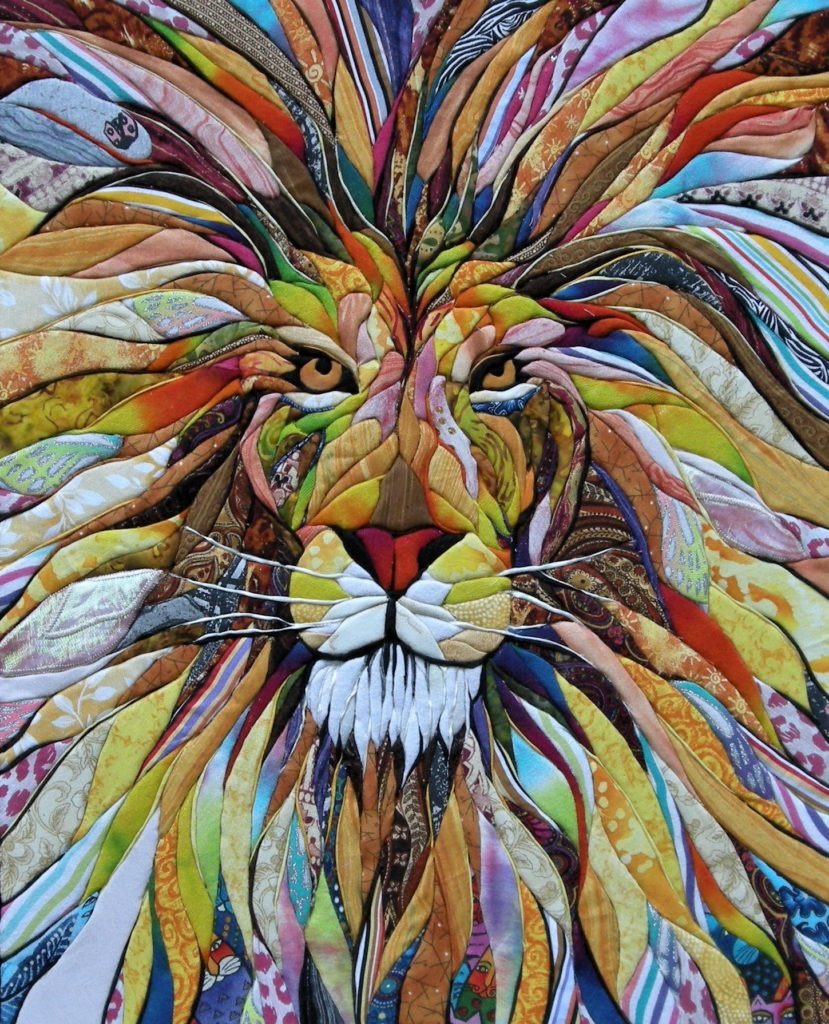 Teaching fabrisaics to aspiring artists is a joy because everyone brings different techniques and ideas to the table. During private classes and visiting artist workshops, artists learn the basics of kimekomi. They learn how to create simple designs, how to cut the puzzle-like shapes into the foam, how to cut the fabric to fit the shapes, and how to tuck the edges of the fabric into the foam.  They learn techniques for making the fabric smooth whether around curved lines or straight. They learn the importance of planning ahead and saving the details of fine lines and points for last.
Private classes usually take place in the comfort of the student's home. Some host a class as a fun activity for friends and family to do together. Some want me to come teach once a week for a few hours each class. As with any art form, the more sessions an artist participates in, the more advanced techniques we can cover. Whether in a private class or a gallery or school workshop, participants find the medium of kimekomi calm and meditative. I often reflect on how wonderful it is to use a tool traditionally used to divide and separate to create and unite.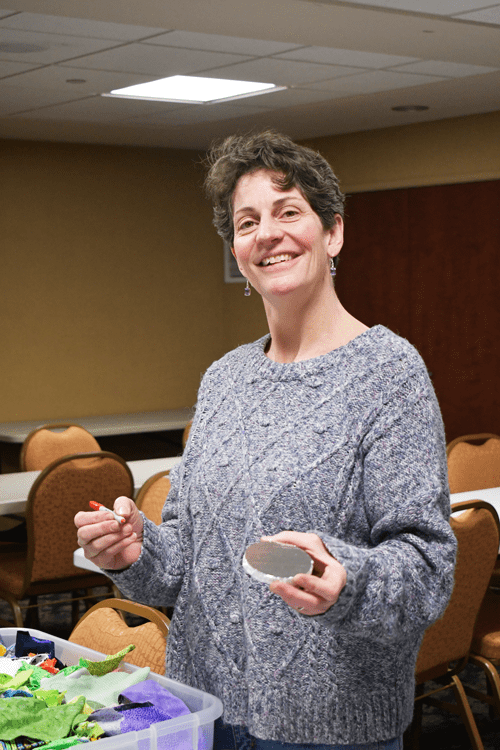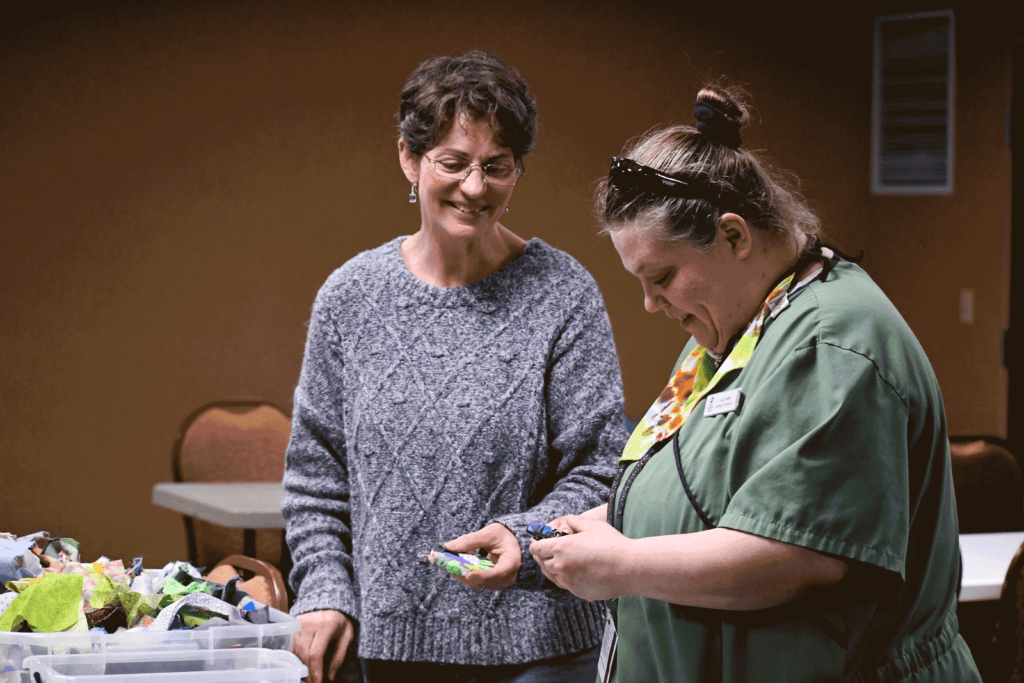 If you'd like to reach me about inquiries or for any other reason, fill out this form, and I'll get back to you shortly!